Aku tengok quiz ni kat blog
CikTipah
, jadi.. cuba jugak lah kan.. nak tengok dalam kategori princess manakah aku ini.. hahaha..
Inilah hasilnya... :-)
You Are Belle!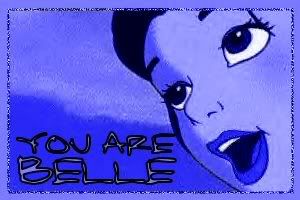 Intelligent and kind. Your beauty goes much further than your apperance. Also, you make judgements of people based on their personality and not their looks. Attaining all the knowledge that you can is one of your major goals in life, but you are also a person who can make things happen.
Which Disney Princess Are You?
Kan.... adakah aku ini seperti Belle?? Betul ka......?? Hehehe..
Korang macamna? Jom.. try..! Just for the ladies okay.. bukan for the guys.. ehehehe! :-)